I'm frequently asked about the best exercise to promote brain health and prevent dementia.

There's been an enormous amount of study about the impact of exercise on brain performance. One of the challenges in these scientific trials has been the variation in types and intensities of the activities studied, and the variability of the groups who participated. Overall, however, it can't be denied that exercise has numerous benefits, and not just for the brain.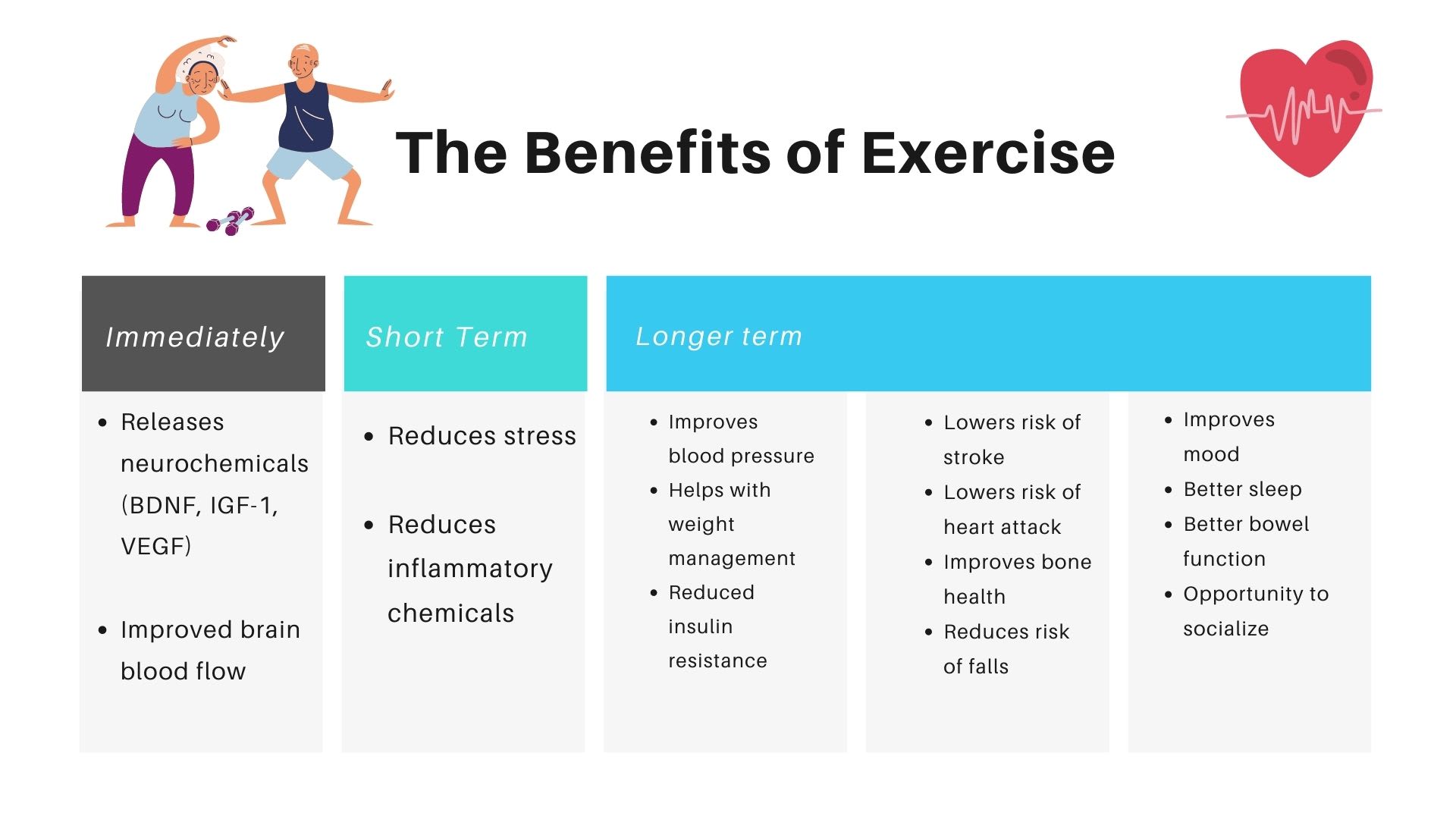 Immediately upon initiating exercise, there is the release of protective neurochemicals like brain derived neurotrophic factor (BDNF) , insulin-like growth factor-1 (IGF-1) and vascular endothelial growth factor (VEGF). These chemicals seem to help preserve the volume of certain parts of the brain like the hippocampus, which is especially important in cognition. In normal adults the hippocampus shrinks with age, and any intervention that would slow the rate of atrophy could also slow the decline of memory loss.
Over the longer-term exercise helps to modulate glucose metabolism. It can enhance the body's ability to use chemicals like insulin, reducing insulin resistance. Those who engage in exercise have lower levels of stress hormones and inflammatory cytokines.
Let's not forget that exercise can also:
·         help reduce the risk of heart attack and stroke,
·         help with weight management,
·         reduce the risk of falling, and
·         help to build and maintain bone healt
h.
Exercise has psychological benefits and can be an opportunity for socialization which also seems to be associated with a lower risk of dementia.
So which exercise is best?
 Well most of the studies that I read looked at aerobic exercise and resistance training. based on the data that we have, it's difficult to say whether there is one exercise in particular that's likely to be the most beneficial but it appears that any type of exercise is worthwhile.
To hedge your bets, I recommend doing a combination of aerobic activity and some strength training (aka resistance training).  
The Canadian Society for Exercise Physiology has published
24-Hour Movement Guidelines for Adults.
Those over the age of 65 should get less than 8 hours of sedentary time a day and no more than three hours of recreational screen time. They recommend 150 minutes per week of moderate to vigorous aerobic activities as well as some muscle strengthening activities. What you do when you're not active is also important: the guidelines recommend 7 to 8 hours of good quality sleep with consistent bed and wake-up times.
What I'd like you to know about exercise for brain health:
·         Exercise has short term and long-term benefits for the aging brain
·         On top of brain benefits there are many other body systems that require exercise to function optimally
·         Aim for 150 minutes per week of moderate to vigorous aerobic physical activities
·         Aim to have a combination of aerobic and strength training activities
·         Get enough sleep
·         Lead an active lifestyle
For more information about brain health read some of our other articles here on TheWrinkle.ca 
Reference:
Effects of Exercise on Cognitive Performance in Older Adults: A Narrative Review of the Evidence, Possible Biological Mechanisms, and Recommendations for Exercise Prescription, J Aging Res. 2020 May 14;2020:1407896. Adria Quigley , Marilyn MacKay-Lyons , Gail Eskes
0
comments